Looking for the perfect gift idea? We've got you covered
It's beginning to look a lot like Christmas! Looking for the perfect gift idea? There's nothing quite like a Twilight at Taronga experience.
Our line-up has something for everyone and we're looking forward to back-to-back weekends of events returning to Taronga Zoo throughout February – March. With unrivalled views of sunset over Sydney Harbour and Cammeraigal Country, we've invited some of Australia's finest entertainers to perform at one of the most picturesque locations.
Twilight at Taronga is an unforgettable way to see The Living End, The Church, Daryl Braithwaite, Kate Miller-Heidke, Kasey Chambers & Busby Marou, as well as Twilight favourites Bjorn Again, James Morrison and the Comedy Gala.
Our brand new 'Lil' Twilight' shows, held at the family friendly hour of 10.00am, feature Justine Clarke followed by Teeny Tiny Stevies and include free entry to explore the Zoo on the same-day as the show. It's the perfect ticket for the little groovers!
Or plan ahead and secure tickets to celebrate Sydney WorldPride under the stars with our inaugural Drag Gala. Hosted by the queen of corporate herself, Karen From Finance, this event features performances from some of Australia's biggest names in drag including Kita Mean, Spankie Jackzon, [A-Z] Carla From Bankstown, Elektra Shock + more!
To make your gift that little bit more special, Twilight at Taronga Admission Tickets have an extra touch of festive spirit with a Christmas bow included on tickets until Dec 28th. BUY TICKETS HERE!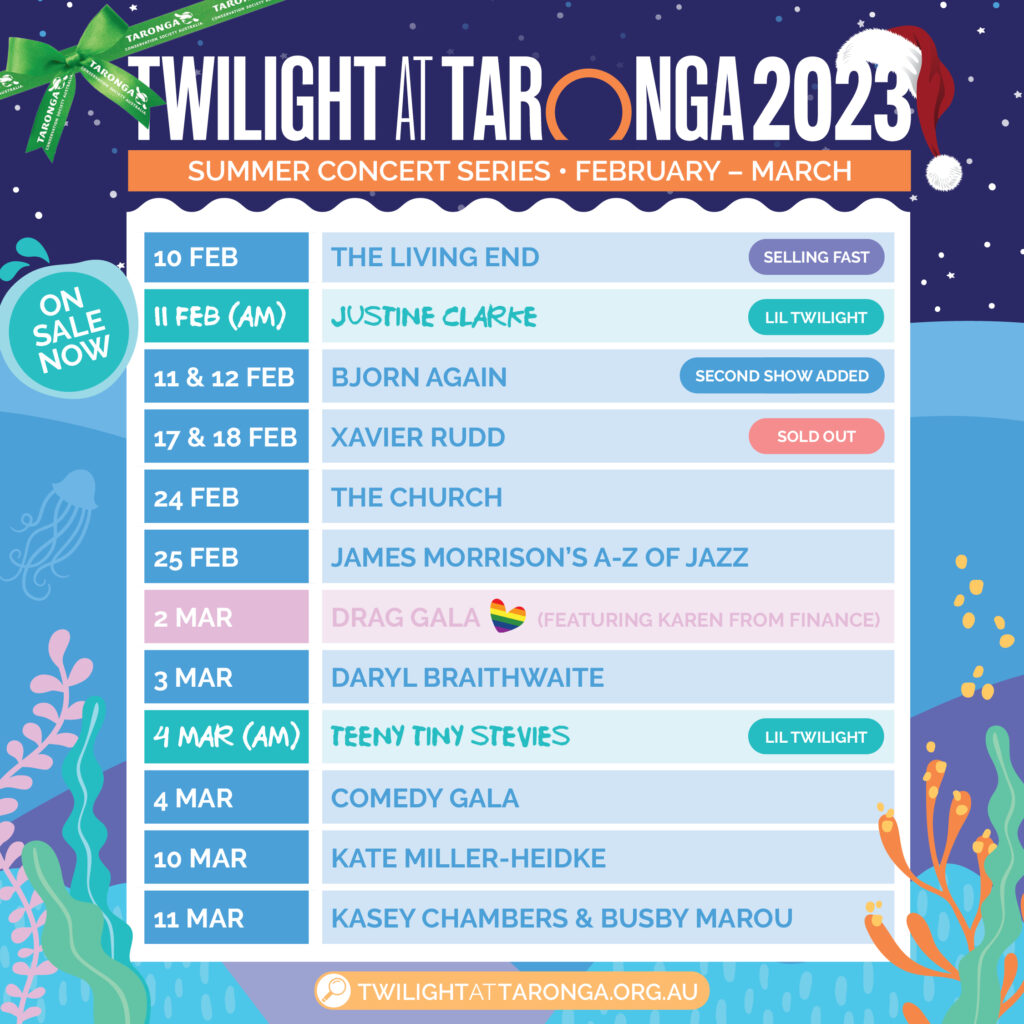 Special offers for a limited time only
With summer just around the corner, we're excited to share special offers that are available for a limited time only. Our offers include a limited VIP ticket release across all shows with an opportunity to upgrade your existing Twilight ticket by purchasing 'I need a little extra' upgrade as well as access to discounted tickets with free same-day Zoo entry and select add-ons!
TWILIGHT AT TARONGA 2023 SPECIAL OFFERS
☀️ Limited VIP ticket release
A night out feels SO good right now, if you need a little extra then select a Twilight at Taronga VIP ticket to treat yourself just that little bit more! This limited ticket release will be available across all shows – so best to get in quick!
I need a little extra includes:
·       Same day Zoo entry
·       First access to lawns
·       VIP seat with great views
·       Drink service from your seat for the duration of the evening

☀️ Upgrade your existing Twilight ticket
If you currently hold a GENERAL ADMISSION ADULT ticket, you can upgrade your existing ticket to VIP by purchasing a 'I need a little extra' UPGRADE. Click on the event you're attending and select 'SPECIAL OFFER – Upgrade your existing General Admission ADULT ticket'.

☀️ Get 10% off concert tickets with free same-day Zoo entry
Simply select the show to purchase your ticket and unlock free same-day Zoo entry! Don't forget to select the ADD-ON 'Same Day Zoo Entry (SPECIAL OFFER)' and add the ticket to your cart.

☀️ Get 10% off Chillazy Chairs & Picnic Rugs
Select the event you're attending and add-on a Chillazy Chair or Picnic Rug. Items will be available for collection at the concert.
Offers will be available from 9am (AEDT), Friday 25th November until Monday 28th November, or until allocation is exhausted.
Announcing 2nd shows for Xavier Rudd & Bjorn Again
Tickets for our Summer Concert Series went on sale yesterday and second shows have already been put on sale for Xavier Rudd on Friday February 17 and Bjorn Again on Sunday February 12, after their first shows SOLD OUT!
Tickets for Twilight at Taronga are on sale now with all proceeds contributing to Taronga's ongoing conservation work including the Litter Free Oceans Campaign to reduce single use plastics
The purchase of all Twilight tickets come with the choice to add on optional extras. All contribute to Taronga's work in wildlife conservation.
Those wanting something small can choose from additions including our brand new selection of Gourmet Hampers as well as Chillazy Chairs, Twilight Picnic Blankets, and same day Zoo entry.
Or you can spend the night at Taronga with the Twilight at Taronga Retreat Package that includes an overnight stay in luxury accommodation at the Wildlife Retreat at Taronga, breakfast at the Me-Gal restaurant, a Sanctuary Tour where you can meet Koalas, Echidnas, and other unique Australian species, first access to the concert lawns, a gourmet picnic hamper, picnic rug, Chillazy chair, complimentary 2-day parking and complimentary 2-day entry into the Zoo.
Your ticket to Twilight at Taronga has the power to protect. Taronga is a not-for-profit conservation organisation, with all proceeds from this special event helping to save wildlife, including helping us care for thousands of animals, like the Marine Turtle, at our Wildlife Hospitals.
TWILIGHT AT TARONGA 2023 SUMMER CONCERT SERIES
Tickets on sale now HERE
Friday 10 February
The Living End

Saturday 11 February (AM)
Justine Clarke | Lil' Twilight – 10am
Saturday 11 February
Bjorn Again SOLD OUT
Sunday 12 February
Bjorn Again NEW SHOW!
Friday 17 February
Xavier Rudd NEW SHOW!
Saturday 18 February
Xavier Rudd SOLD OUT
Friday 24 February
The Church
Saturday 25 February
James Morrison's A-Z of Jazz
Thursday 2 March
Drag Gala | Featuring Karen From Finance + Kita Mean, Spankie Jackzon, [A-Z] Carla From Bankstown, Elektra Shock + more
Friday 3 March
Daryl Braithwaite
Saturday 4 March (AM)
Teeny Tiny Stevies | Lil' Twilight – 10am
Saturday 4 March
Comedy Gala | Featuring Nazeem Hussain, Melanie Bracewell, Anne Edmonds, Lloyd Langford, Claire Hooper, Danielle Walker + more to be announced! 
Friday 10 March
Kate Miller-Heidke
Saturday 11 March
Kasey Chambers & Busby Marou